Specifikationen av pulverbelagd publikstyrningsbarriär
Materail
Carbon steel pipes Q235
Surface treatment
Hot dipped galvanized after welding or powder coating
Specifications

1. Panels sizes: 1.1m high, 2.1m wide

2. Frame pipes: 20mm,25mm(popular), 32mm, 40mm, 42mm, 48mmO.D

3. Infill pipes: 14mm, 16mm, 20mm(popular), 25mmO.D

4. Thickness of pipe: 1.0mm, 1.2mm, 1.5mm, 2.0mm

5. Spacing: 60mm, 100mm, 190mm(popular), 200mm

6. With flat metal feet(600*60*6mm)

Features

1. Fully hot-dipped galvanized after welded, zinc coating is more than 70 microns.

2. More weather resistant and durable, and it can last more than 10 years.

3. The barrier are light and easy to handle, while being strong and robust at the same time.

4. The feet are removable which makes transportation and storage much easier and more efficient.



Tillämpningarna av pulverbelagd publikstyrningsbarriär
Crowd control barrier är den perfekta lösningen för många fotgängare kontrollbehov. Barriären kan säkerställa allmänhetens säkerhet, hålla god ordning.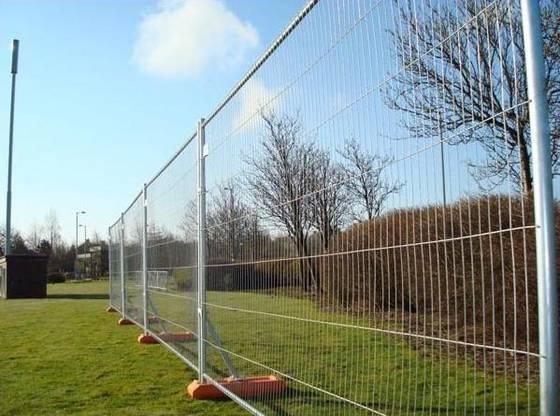 Vårt företag är beläget i den största trådnät produktionsbas - Anping County, hemstad av trådnät i världen. Nu är vi en av de ledande tillverkarna av trådnät. Med rimliga priser och bra service har vi fått erkännande och förtroende bland kunder över hela världen.
Våra huvudprodukter är alla typer av trådnätprodukter, inklusive Chain Link Mesh Fence, Straight Line Razor Wire, Pvc Coated Gabion Basket, Temporär Fäktning Panel, 3D Pulver Coated Fence, 656 Twin Wire Mesh Fäktning Paneler, Round Metal Post Fence Panel, Garden Square Post Fence Panel och så vidare.
Varför välja oss?
Anping Tuofang Metal Product Co, Ltd integrerar trådnät forskning, utveckling, produktion, försäljning och kundservice. Vi är ett av de omfattande tillverkarna av metallprodukter inom området. TUOFANG är ett ungt, professionellt, elegant och livfullt högkvalitativt team. Vi kommer att ha ett gott samarbete med våra kunder. Vi strävar efter att möta kundernas behov (kundens standard är vår standard) och har ett mycket effektivt samarbete med kunderna.
Vårt företag anser "rimliga priser, effektiv produktionstid och bra kundservice" som vår princip. Vi hoppas att samarbeta med fler kunder för ömsesidig utveckling och fördelar. Vi välkomnar potentiella köpare att kontakta oss.
Kom och välj TUOFANG och dela framgången!
tjänster
Kvalitetsprodukter:
Vi följer policyen att söka utveckling genom kvalitet och etablera rykte via kvalitetsprodukter. Vi försöker möta kundernas krav med utmärkta kvalitetsprodukter.
Ärlig service:
Vi erbjuder ärlig service till kunder. Vi erbjuder produkter med uppriktig och utmärkt service och snabbast leverans.

Innovation:
Vi har avancerad inspektions- och produktionsutrustning och kan utveckla nya produkter för att möta efterfrågan på marknaden. Vi kan också acceptera skräddarsydda beställningar. Vår starka FoU-förmåga gör det möjligt för oss att innovera nästan varje dag.

Vi gillar:
Avancerade trådnät vävmaskiner; Erfaren och välutbildad arbetspersonal; Kvalitet trådnät produkter.
Produktkategorier : säkerhet fäktning paneler > Tillfällig fäktningspanel